Place of Origin:

Guangdong, China (Mainland)
Brand Name:

Eunicell
Model Number:

AG13 LR44 A76
Battery Type:

Zn/MnO2
Size:

11.6mm*5.4mm
Nominal Capacity:

128mAh
Nominal Voltage:

1.5v
Diameter:

11.6mm
High:

5.4mm
Application:

Calculator Watch Toy Laptop
Certificate:

CE ROHS SGS TUV Certificate
SupplyAbility:

500000 Piece/Pieces per Day
Packaging Details

1. bulk in tray packing

2.10pcs per blister card.
Port

Hongkong, Shenzhen
Lead Time:

Shipped in 5 days after payment
LR44 AG13 1 5v button battery Watch batteries battery
Product Description
1) Size: AG13
2) Cross-reference: LR44, A76
2) Nominal voltage: 1.5V
3) Nominal capacity: 128mAh
4) Dimensions: Φ11.6 x 5.4mm
5) Approx. Weight: 1.95g
6) Applications: Watch, calculator, cameras, music card, flash lamp, electronic notebook, Electric toys, game and other electric products.
7) Models: A521, AG1, AG2, AG3, AG4, AG5, AG6, AG7, AG8, AG9, AG10, AG11, AG12, AG13, 4AG13, 625A, 27A, 23A.
Company Information
 Established in 2002, EAST (SHENZHEN) TECHNOLOGY Co., Ltd. is a professional manufacturer of various batteries. Our products cover a full range of dry batteries, button cells, 1.5v Mercury Free alkaline button cell, 3.0v lithium coins, carbon-zinc batteries, alkaline batteries, cylindrical batteries, AAA batteries, AA batteries and other primary batteries.
| | | | | | | | | | |
| --- | --- | --- | --- | --- | --- | --- | --- | --- | --- |
| Model |  No. | Dia (mm) | H (mm) | Voltage (V) | Capacity(mAh) | (Ω) | Discharge time(hrs) | Off Voltage(V) | Weight (g) |
| LR621,364 | AG1 | 6.75 | 2.00 | 1.5 | 13 | 68K | 630 | 0.9 | 0.25 |
| LR726,396 | AG2 |   7.85 |    2.50 | 1.5 | 26 | 22K | 490 | 0.9 | 0.44 |
| LR41,392 | AG3 | 7.85 | 3.50 | 1.5 | 35 | 22K | 670 | 0.9 | 0.57 |
| LR626,377 | AG4 | 6.75 | 2.50 | 1.5 | 18 | 47K | 690 | 0.9 | 0.31 |
| LR754,393 | AG5 | 7.85 | 5.30 | 1.5 | 58 | 22K | 920 | 0.9 | 0.9 |
| LR920,371 | AG6 | 9.45 | 2.00 | 1.5 | 32 | 15K | 320 | 0.9 | 0.55 |
| LR926,395 | AG7 | 9.45 | 2.50 | 1.5 | 46 | 15K | 400 | 0.9 | 0.64 |
| LR1120,391 | AG8 | 11.55 | 2.00 | 1.5 | 45 | 15K | 570 | 0.9 | 0.79 |
| LR936 | AG9 | 9.45 | 3.50 | 1.5 | 56 | 15K | 550 | 0.9 | 0.86 |
| LR1130,389 | AG10 | 11.55 | 3.00 | 1.5 | 68 | 15K | 850 | 0.9 | 1.11 |
| LR721,362 | AG11 | 7.85 | 2.00 | 1.5 | 20 | 7.5K | 415 | 0.9 | 0.38 |
| LR43,386 | AG12 | 11.55 | 4.10 | 1.5 | 100 | 7.5K | 610 | 0.9 | 1.47 |
| LR44,357 | AG13 | 11.55 | 5.3 | 1.5 | 148 | 7.5K | 880 | 0.9 | 1.92 |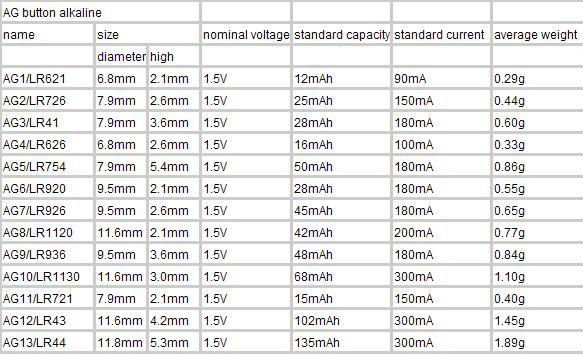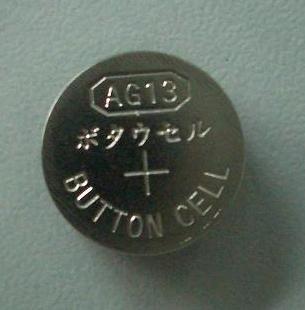 https://www.alibaba.com/product-detail/LR44-AG13-1-5v-button-battery_60706559220.html